How to Plan the Best Silent Auction: 9 Steps for Nonprofits
May 14, 2023
Auctions are generally engaging fundraisers, but their different formats can make them especially interesting events for your nonprofit's community. Whereas live auctions offer the classic experience of an auctioneer and a loud gavel, a silent format provides the thrill of simultaneous bidding.
During a silent auction, bidders compete against each other to win items by having the highest bid amount when the time is up. Bids may be written on paper bid sheets or submitted virtually through bidding software. At the end of the bidding period, the winning bidder is announced.
Between event marketing, item procurement, and every other part of silent auction arrangement, the planning process can be complex. In this guide, we'll review nine steps to help your nonprofit plan a silent auction:
Silent auctions often supplement other events, such as galas, banquets, or various celebrations. Although this dual fundraising technique is a creative way to engage donors, hosting two events at the same time can be tricky. Let's look at these best practices for planning a silent auction!

1. Determine your silent auction's goals
One of the first steps you must take to plan a silent auction is establishing the milestones that will help your event succeed. Equipped with these clear expectations, your team will be on the same page and have a solid understanding of the event's progress. Some goals to consider include:
Your goal revenue. What are you raising money for and how much money does your organization need? Set a reasonable and achievable goal for the revenue you expect your silent auction to generate.
A planning process timeline. If you're raising money for a specific project, you might already have a deadline in mind. If not, set one. Then, create a schedule for each planning task to determine when each part of the planning process should be completed.
The event date. Set a reasonable event date according to what needs to be done and how quickly your team can finish it. You might also consider the timeline of your campaign goals when setting a date.
The general number of attendees. Your guest list is a determining factor that will guide many of your planning decisions. Determine your target audience and estimate the expected size of your auction.
When setting your goals, review the timelines, sizes, and successes or failures of past fundraising events. Then, use these past insights to set reasonable goals. Approach your plans with an expectation of growth, but make sure your new goals are realistic for your team.
2. Establish your auction team
There are multiple elements to planning a silent auction, and delegating each of these tasks to a team or individual can help you organize the event planning process. Consider the following roles that will need to be filled for your event: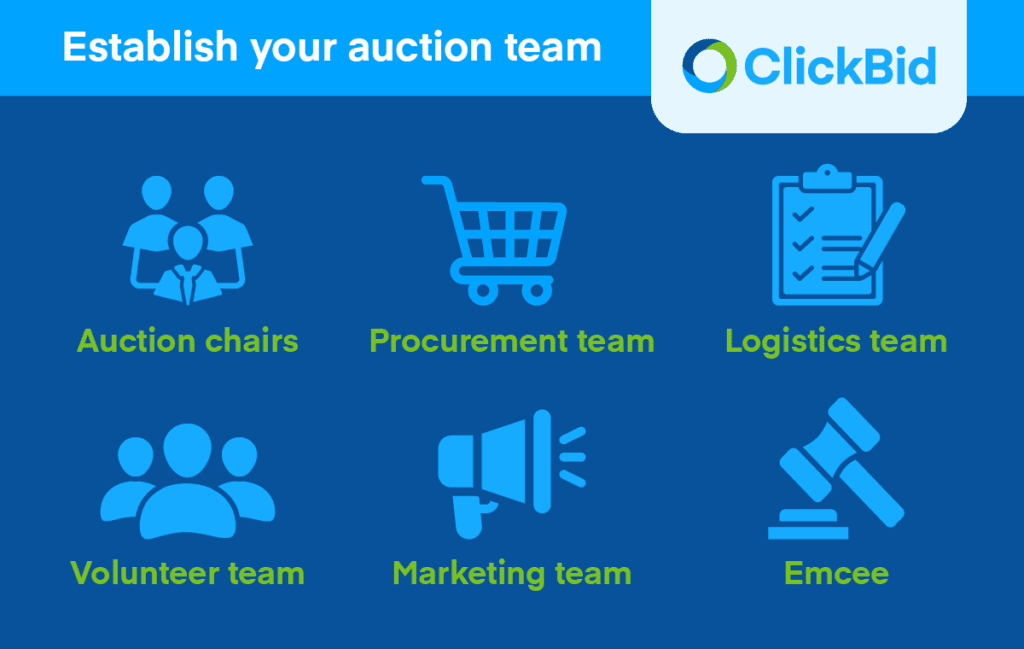 Auction chairs: The direct leaders of the event from pre-planning to check out
Procurement team: The group of people gathering auction items
Logistics team: The team in charge of event logistics and event flow
Volunteer team: The volunteers who support event setup and takedown processes
Marketing team: The people in charge of promoting the event
Emcee: The speaker who makes announcements, such as event instructions or winning bidders
Creating teams to focus on specific aspects of the event ensures each task gets individualized attention. This way, nothing is rushed through or forgotten. Plus, your staff will work together more efficiently when they each have a specific role that contributes to the event's overall success.
3. Leverage auction management tools
Creating committees can streamline the silent auction planning process, but to help them carry out their tasks efficiently, you'll need to equip them with the right tools. Consider how each team can benefit from these respective tools:
Mass messaging: This feature allows auction leaders to send the right messages to the right people, like a team-wide message or a message to a select group of donors.
Online auction catalogs: Catalogs not only display items to bidders but also help the procurement team organize their list of items as they collect them.
Event landing page: Create an event landing page to develop an online presence for the event, as well as centralize information about the auction.
Volunteer management tools: This feature oversees event tasks like check-in and check-out to help volunteers keep the auction going smoothly.
Integrations: Integrations with popular CRMs can help with targeted outreach so your marketing team can use donor data to reach audiences with specific appeals.
An all-inclusive event fundraising platform, like ClickBid, provides all these tools and more, making it easy for your team to manage from the back end. With ClickBid's event fundraising platform, your silent auction will see increased engagement and an improved guest experience.

4. Procure auction items
Most silent auction attendees are not major donors, so it's important to plan your auction around various items and prices to encourage higher involvement from all guests. Find items that appeal to everyone to boost participation from all types of individuals in your audience. For example, you might procure the following items:
Experiences: Offer the opportunity to engage in unique experiences, especially experiences relevant to your organization. For example, attendees might bid on the opportunity to tour your nonprofit's facility.
Travel: Auction off trip-related items, like plane tickets or hotel vouchers.
Sports: Tickets to sporting events can be profitable items and are especially popular among sports fans.
Food: Offer gift cards to local restaurants or taste-testing experiences.
Start your item procurement process early to give you and your team enough time to find the best items available. You should also create a wishlist of potential items you believe your donor base would be interested in. Then, send this list to your board members, major donors, corporate partners, and sponsors and encourage them to donate an item to your event.
Another helpful way to procure more items is by reaching out to local businesses. Encouraging them to donate to your fundraising event will create desirable and unique items that your donors will be interested in. If event supporters are unable to contribute the items from your wishlist, you can also accept monetary donations to purchase items for your silent auction.
5. Price auction items
Properly pricing your silent auction items is essential to maximize revenue, but it can be a very challenging task. Pricing your items too high can reduce bids and pricing them too low risks falling short of your auction fundraising goals.
To guide your item pricing, you should first establish the correct fair market value (FMV), or widely accepted monetary value, for each item. Accurate FMV estimations are crucial because any amount paid for an auction item over the FMV is tax-deductible. This means that when auction participants pay for an item, any amount more than that predetermined value will be tax-deductible, lowering their income tax expenses.
Once you've established each item's FMV, choose a starting price of around 30-45% of that value. This is the amount that bidding will start at, but the price will increase with each bid. The last person to place a bid uncontested by another bidder will win the item and purchase it for their final bid amount. In short, each item's pricing should follow this model: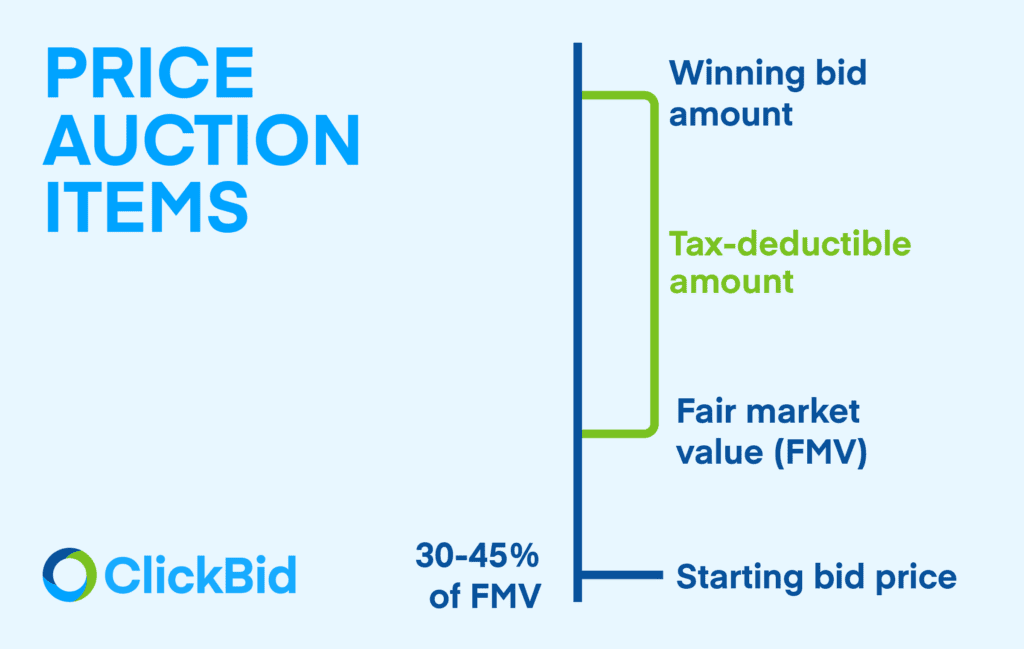 Depending on the FMV, you can round the starting price:
FMV under $100: round up to the nearest $5
FMV up to $400: round up to the nearest $10
FMV up to $600: round up to the nearest $25
FMV up to $800: round up to the nearest $50
FMV over $1000: round up to the nearest $100
Setting the correct bid increment also plays a significant role in the success of your silent auction. We recommend the following bid increments for the corresponding FMV:
$50-149 FMV: $5 bid increments
$150-249 FMV: $10 bid increments
$250-399 FMV: $20 bid increments
$400-599 FMV: $25 bid increments
$600-999 FMV: $50 bid increments
FMV over $1,000: $100 bid increments
Although price-setting may seem formulaic, be sure to evaluate your items' prices with your unique auction in mind. Your bidders' demographics and the popularity of the item can largely impact the way you present these items.
6. Plan your silent auction logistics
Silent auction logistics are like the catch-all task of actually running the event. It will likely be an ongoing process with a variety of tasks, such as:
Selecting an event venue
Planning the event activities, such as raffles or entertainment
Confirming the catering menu
Finalizing the attendee list
Determining the day-of activity schedule
Assigning day-of tasks
Your event flow directly impacts your guests' experience — having these details planned ahead of time will help the event and guests' experience go smoothly. Plus, a positive experience at this silent auction could encourage guests to attend future fundraising events, as well.
7. Create an online event page
In today's world, an online registration page is the best move to easily share your event information with a large number of people. The software that manages your silent auction should have event page capabilities. Use this software to craft event pages that include:
Event dates and information
Ticket and sponsorship information and deadlines
Additional features/upgrade options for purchase
The complete registration process, where attendees will provide contact information, meal selection, seating preferences, and credit card information
Dress code or party theme
The highlights of your organization and your fundraising goal
Contact information for any questions from registrants
Creating a clear, simple website with your event information will successfully engage your existing supporters and draw in new ones. For some, this event page will be their first interaction with your event, so creating an easy-to-use, yet attractive page will have a lasting impression.
Incorporating video on your event's registration page can inspire new viewers to become committed supporters and donate to support your mission. By implementing a hybrid event structure, you can allow your entire donor database to participate in your events through video, reaching a greater audience. ClickBid's EventStream feature allows you to stream video directly on the bidding site, allowing you to engage with out-of-town guests and create a memorable experience for those at home.
8. Promote your silent auction
At this point, you've procured most of your items, created your event page, and finalized your event's logistics. Now, it's time to spread the word and build some excitement around your silent auction.
Generating attention and steering potential attendees to your event page is one of the most vital parts of your silent auction plan. After all, your event will only be successful if people actually attend!
When it comes to marketing any initiative, we've noticed many organizations maximize registrations and boost overall fundraiser revenue by employing multiple outlets for event promotion.
For silent auctions in particular, we recommend leveraging these channels: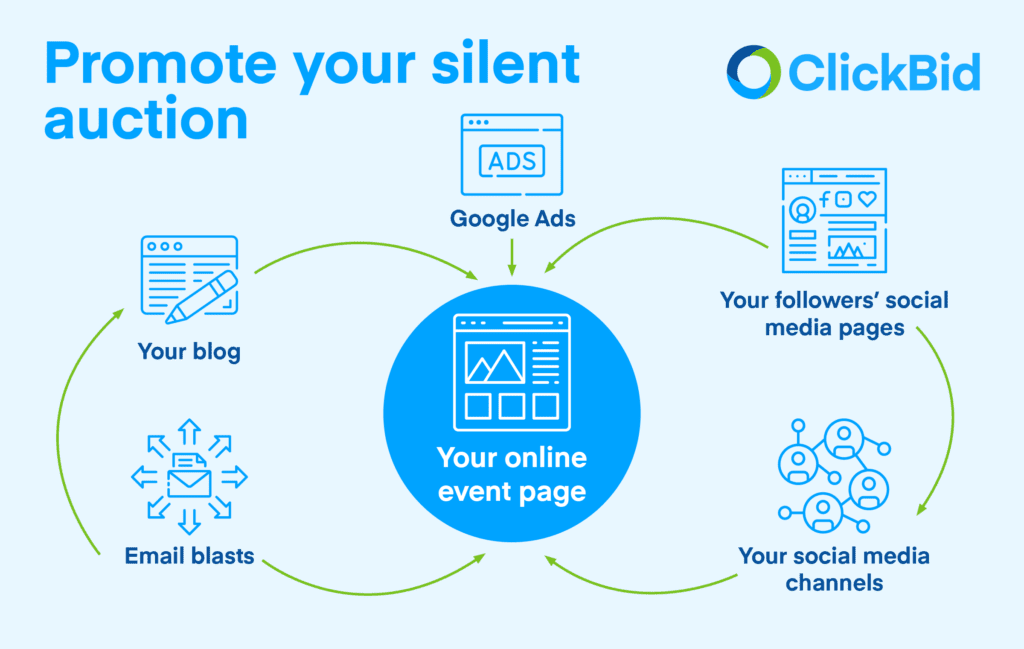 Your online event page. Your website is the heart of your marketing efforts. Supporters visit it to stay in the loop on engagement opportunities, including events. Use your event page as a hub for all information about your auction. Include all the event's important information here, then make sure each of your other communication channels points back to this main source of truth.
Your blog. If your website includes an educational blog, write short posts that cover the basics of nonprofit auctions and encourage readers to check out your upcoming event.
Email blasts. Use your weekly or monthly updates to remind supporters of your auction and encourage them to register. For example, you might send details about a current project that your nonprofit is working on, then present the auction as a solution to that fundraising need and explain how supporters can attend. Use attention-grabbing subject lines that persuade recipients to open your emails. Then, highlight key details about your event, including how to register and what items will be up for bidding.
Google Ads. Even if you're planning a silent auction on a limited budget, you can leverage paid advertising with the Google Ad Grant. Once you're approved, use your free Google Ad credits to promote your event page on Google and drive registrations. You'll need to craft compelling ads that persuade users to visit your auction's landing page. Then, carefully choose keywords to place your ads in front of likely attendees.
Social media. Platforms like Instagram and Facebook are a must for promoting your silent auction. On your organization's page, announce the event and highlight big-ticket items to entice people to attend.
Your followers' social media pages. To bring supporters into your marketing efforts, encourage them to share your silent auction page with their social media networks.
No matter what platforms you choose, include a direct link to your event page across all marketing collateral. That way, users will know exactly how to participate once they feel inspired by your messages. In no time, registrations will start rolling in.
9. Set up informative item display sheets
Silent auction display sheets are physical sheets that are used to highlight relevant information about each item. These sheets contain all of the essential information and highlights regarding your items — allowing your bidders to receive more details.
Even if your participants are bidding from their mobile devices, display sheets are important for your bidders to quickly read more information about your items without having to look up the item details from their mobile devices. To help guests familiarize themselves with mobile bidding, you can include printed information about how to bid around your auction items. This information will help guide your bidders and reduce confusion.
With ClickBid, you can easily generate item display cards with the information already uploaded and ready to print. Including QR codes for each item might be helpful for your bidders as well.
Getting your silent auction started
As with any fundraising event, thorough planning plays a significant role in the success of your event and in meeting your fundraising goals. Plan your silent auction early and stay organized to ensure you don't leave anything out!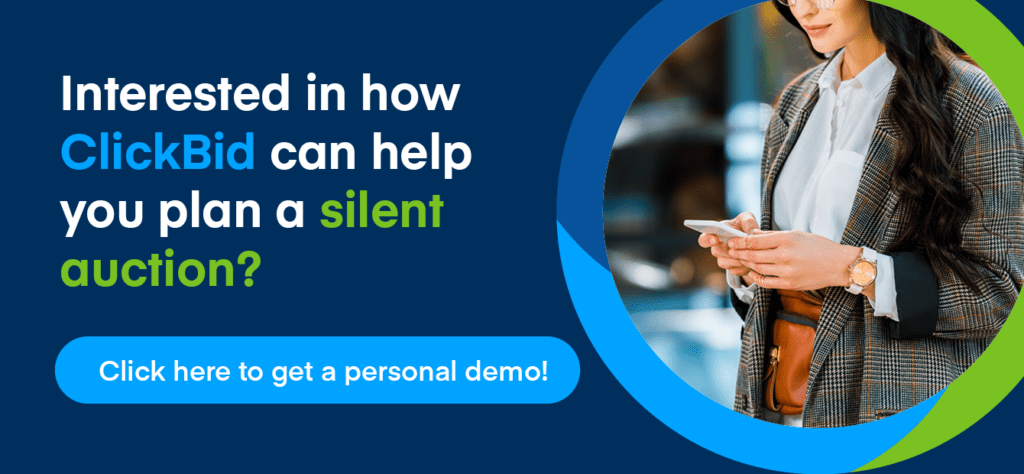 Get The Latest Updates
Subscribe To Our Monthly Newsletter
No spam, notifications only about new products, updates.
Become a subscriber
Subscribe to our blog and get the latest updates straight to your inbox.