Silent Auction Software: An Overview and Top Choices
March 9, 2023
When planning your next silent auction, it pays to choose the most appropriate auction software for your charity. Software that automates the auction process can save time for your team, help create an engaging charity auction experience, and encourage more bids from attendees, thus increasing your revenue.
In addition, when picking an online auction software platform, knowing how to use all the features can be daunting. Instead, make sure your silent auction software platform includes resources (beyond a few FAQs) that can assist with using all that you have access to.
In this guide, we'll go over these basics and provide our top silent auction software suggestions. Specifically, we'll cover:
Knowing which tools to use for your silent auction requires you to understand the basics of hosting your event. Let's begin!

What Is Silent Auction Software?
Silent auction software is a digital platform that manages all your auction information, from inventory details to bid tracking. To get the most out of your software, look for the following features:
Inventory management: Keep track of each item for sale, including price, placed bids, and the item's location when it's shipped to the winning bidder.


Mobile bidding: This allows guests to bid from their phones. Your nonprofit will sell more when people can participate from any location.


Online ticket sales: This feature allows guests to reserve tickets directly through your platform and automatically collects contact information and accepts payments for you.


Volunteer tools: Give your volunteers the tools to manage check-in, check-out, and payments all from one software.


Mass messaging: Organize communication by pre-composing messages through your software.
Your auction will be a success when guided by software that organizes these processes as well as item information, payment details, and messaging between your organization, volunteers, and donors.
What Should You Look For in Silent Auction Software?
At ClickBid, we have teamed up with many organizations to conduct successful silent auctions, generating positive results for nonprofits and their donors. Our team of experts can help you develop your event and learn how to make it stand out. The firsthand knowledge we have gained also helps us identify key characteristics to look for when evaluating silent auction software.
The most important attribute of effective silent auction software is feature diversity, meaning you should look for an all-in-one solution for your auction planning needs. All-inclusive software can consolidate each process for everyone involved in your silent auction. Successful silent auctions are guided by software that organizes:
Item information
Payment details
Overall, the right software simplifies planning, managing, and concluding a silent auction so that you can focus more on engaging your supporters and meeting your goal. Using an all-inclusive platform also limits your learning curve when investing your committee's time and energy into a silent auction event.
How To Plan Your Fundraiser With Silent Auction Software
Even equipped with the right software, your nonprofit still needs an actionable plan to start a silent auction. Utilize relevant features as you take these first steps to plan your auction.
Procure auction items
To get the highest revenue from your auction, you'll want to secure free or low-cost items. That way, participants' bids are purely donations to fund your nonprofit's cause rather than reimbursements for the cost of your inventory.
Your silent auction software should provide an easy way to solicit auction items. Using forms on your event landing page to allow donors to submit items is an effective way to save valuable time.
For more item procurement ideas, consider your nonprofit's connections who might be interested in donating quality silent auction items for your event. You might reach out to:
Board members: Start with the people who are directly involved with your nonprofit. Use auction software to send out a mass message to all your board members asking for donations or ideas for item procurement.

Volunteers: Expand your request to people outside of your internal team who are still heavily involved and support your cause. This can be a great way to engage your volunteers, especially if they have already expressed interest in helping out at your upcoming event.

Local businesses: Turn to your community for donations of unique items and services. In exchange for their donations, these businesses will gain visibility from your event and create strong connections with your organization and the community.

Auction consignment companies: Some nonprofits choose to work with auction consignment companies to tap into high-end auction items and packages they wouldn't have access to otherwise. This can be a great option for nonprofits who want to procure unique items with minimum risk.
The right software can manage contact information and even send messages asking for donations. Centralizing communication from the beginning of your event can make it easier to keep track of auction item requests and send subsequent messages throughout the auction-planning process.
Price auction items
Filling your venue is key to a successful silent auction event fundraiser. This includes attracting donors who can contribute at different levels.

Supporters won't be interested in competing for your items if the starting bid is outside of their price range. Price-setting for silent auction items should reflect an awareness of your supporters' different buying motivations. Consider these categories of participants:
Looking for a steal: Some participants will arrive at your auction expecting to leverage their bidding abilities to secure high-value items at low prices. Set some starting bids at lower prices to appeal to these bidders.

Bidding for fun: Silent auctions can be fun, and some attendees just enjoy the competition! Choose some moderate prices to provide bidding opportunities for reasonable buyers.

No budget buyers: Some supporters will be happy to give any amount of money knowing that their bids contribute to your cause. Set a few high prices and highlight them as the most valuable items at the event.
Locate silent auction items that can begin at lower starting points. Increase the window of bids such that your donors can bid 15 or more times before reaching the fair market value. This will increase activity and excitement with your donor base.
Silent auction software can organize your item prices and provide an overview of the price range you're offering. Provide a wide range to appeal to every supporter and encourage more attendance.
Set up registration for participants
Silent auction software can be especially useful for the registration process. Share instructions on your nonprofit's communication channels and the software will do the rest of the work for you.
This is also a good place to provide additional context about the event. Provide the following information:
Explain what it is. Some people are more familiar with traditional auctions. A brief explanation of a silent auction will give them the context they need before registering.

Provide preparation tips. First-time bidders might benefit from establishing their budgets and browsing auction items ahead of time. Provide quick tips on how to prepare for your event.

Give bidding instructions. If you're using your software's mobile bidding feature, explain how participants will browse items and place their bids.
Promoting your auction's virtual capabilities can also encourage greater participation since the convenience of digital bidding will make it easier for some supporters to join.
Create a silent auction virtual venue
The website that you promote on social media, in newsletters, on the radio, and on billboards should contain everything that your donors need to engage in your event. This means that your silent auction software should include the ability to:
Buy tickets
Purchase sponsorships
Add underwriting
Choose a preferred table assignment
Select meals for all their guests
Donate an auction item
Preview the silent auction
Register to bid
Place bids
Add a donation
Make payments
At ClickBid, we call this a virtual venue because, in the same way that your physical venue provides all the necessities for a successful event, your virtual venue will do the same. What's more, your silent auction software's venue is limitless and much more dynamic than a ballroom.
Promote your silent auction
Your nonprofit likely already has a marketing strategy. Use your existing communication channels, like social media or email, to promote your event! Utilize the unique strengths of each communication tool to draw attention to your auction, such as:
Instagram: Social media platforms all incorporate visual elements, but Instagram is especially photo-centric. Post pictures of procured items to capture your followers' interest.

Search engines: Since your website hosts all information about your mission and work, it's the perfect platform to promote when marketing your silent auction! Leverage Google's Ad Grant program to boost your website's rankings and drive traffic to a dedicated landing page for your auction.

Emails: Regular updates about your nonprofit's work, such as email newsletters, are likely text-based. Use the written word to provide event context and instructions for supporters who want to learn more.

Direct mail: Physical mail can be a difficult-to-ignore reminder of your nonprofit's auction. Include a QR code on any printed mail you send to direct recipients to your silent auction platform.
Additionally, your silent auction software can effectively promote your auction through its event landing page. Combine the power of your marketing tools and the software's unique landing page by promoting the link on your existing communication channels.
What can you expect from the support team?
Signing up for a silent auction software platform is the first in several important steps to achieving a successful online or in-person silent auction or even our favorite, a hybrid event. This first step unlocks the features of the platform you've chosen. From registration tools to outbid notices, to AI assistants to check-in and check-out features, your event is like a rocket filled with fuel.
Make the support process work for you
Having a rocket ship at your disposal is one thing, but knowing how to use it and in what order to use it is another. We recommend that you make a specific point to ask vendors about the onboarding phase, the ongoing support resources they offer, and how you can go beyond just a few silent auction software DIY articles.
10 Best Silent Auction Software Providers
You may know what you're looking for in your silent auction platform, but not what specific software providers will provide the features you need. Here are your top 10 options:

ClickBid is an all-in-one charity auction platform that offers a wide variety of features in easy-to-use software.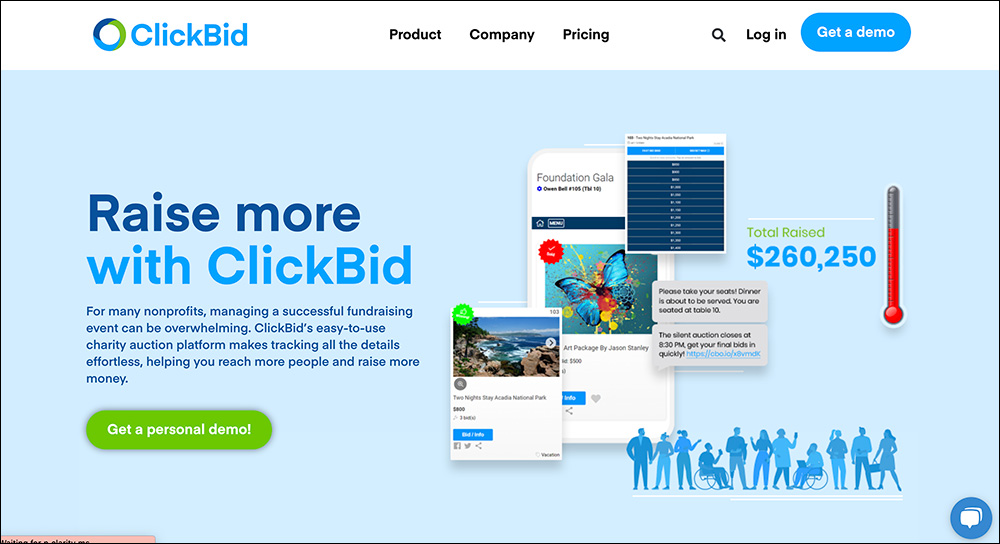 ClickBid Highlights
Since auction events are the entire focus of this software, ClickBid's team gives nonprofits unparalleled support during the planning and fundraising process. Years of experience make this a reliable platform and knowledgeable team to trust with your auction.
Plus, ClickBid's website provides transparent pricing so you know exactly what package will work best for your nonprofit's budget.
ClickBid Pricing
ClickBid's most popular plan costs $1,295/year, but other options are available depending on the included features.

OneCause is a fundraising software for nonprofits that includes an auction management feature.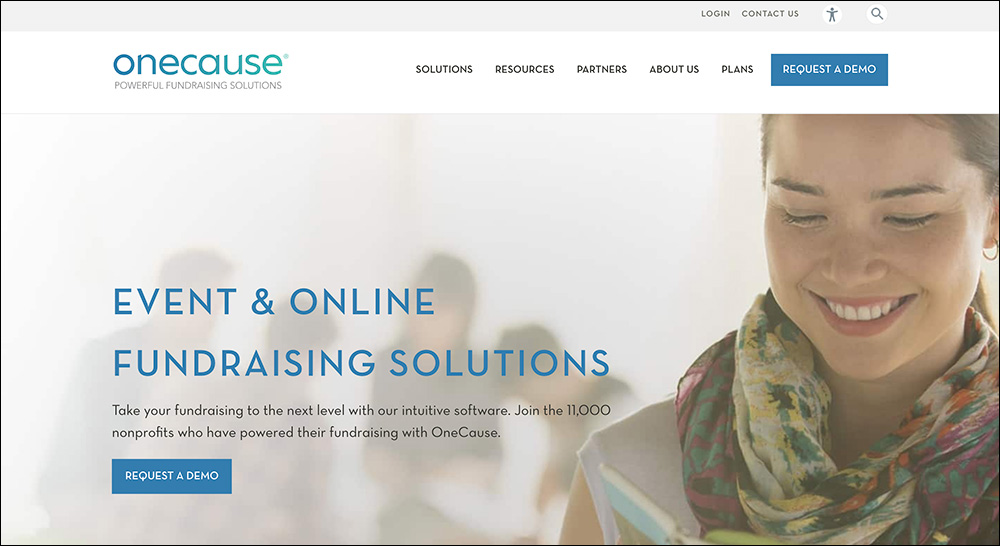 OneCause Highlights
OneCause offers data analysis for nonprofits to see what went well and what could be improved about their auctions. Overall, it's most helpful with auction planning and follow-up.
OneCause Pricing
OneCause does not list pricing information for their auction software plans, but you can request a demo on their website to get more information. Learn more about our comparison with OneCause.

Handbid is an auction platform that specializes in mobile bidding, but also offers other fundraising features, like text-to-give and peer-to-peer.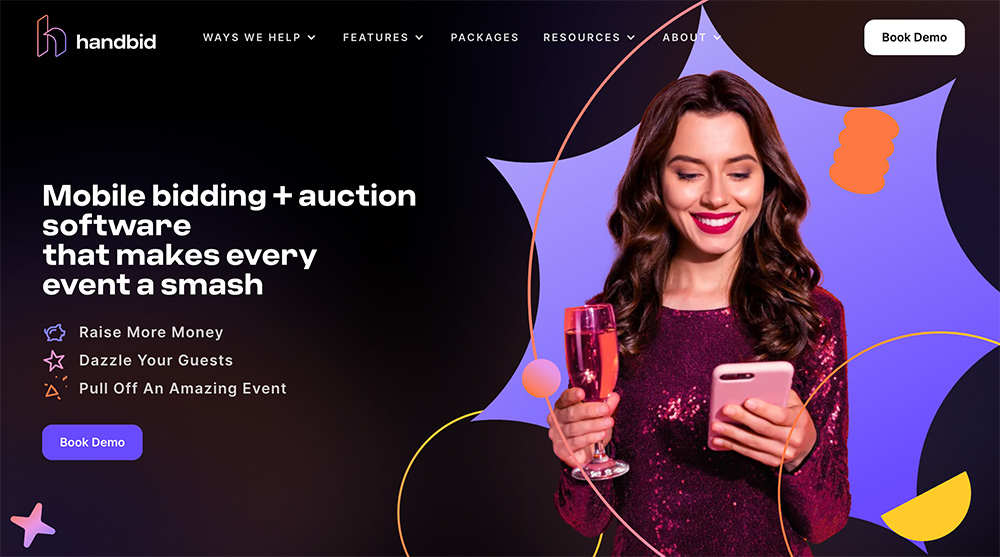 Handbid Highlights
Handbid offers customization options in its theme editor. Paired with its opportunities for peer-to-peer fundraising, Handbid's personalization features are great for more tech-savvy nonprofit leaders.
Handbid Pricing
Handbid's cheapest plan starts at $1,396/year, but a more expensive plan is available that includes all its auction features and full customer support.

Qgiv is a fundraising software that includes an auction platform with all of the essential auction-planning features.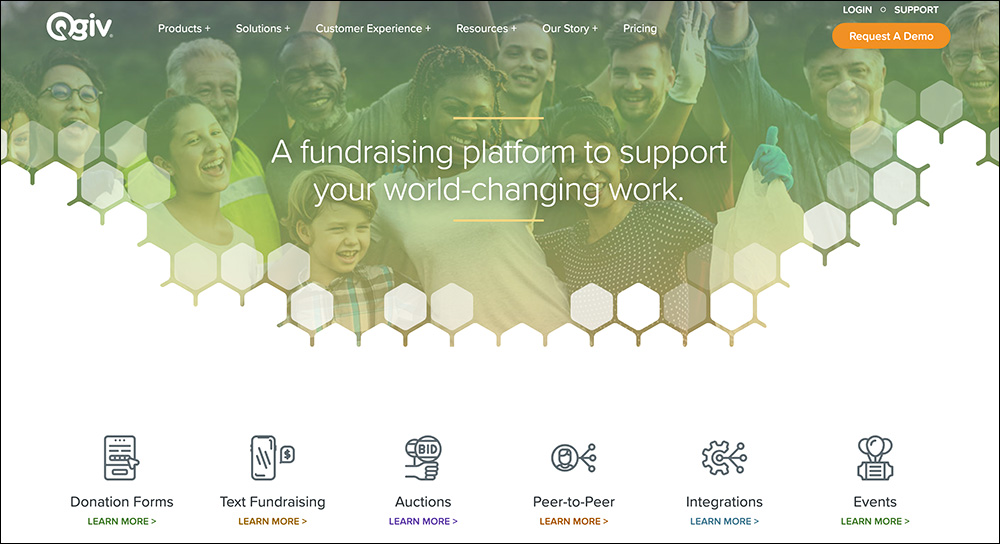 Qgiv Highlights
Qgiv regularly updates its software and fundraising apps, so you'll know the system is regularly adapting to meet customers' needs. This is great for nonprofit professionals that like to see updates in software and experiment with new tools.
Qgiv Pricing
Qgiv's auction plan is $259/month, or $3,108/year. Any other services, such as peer-to-peer and text fundraising software, can be added for an additional cost.

Auctria is an auction planning tool that specializes in data organization and auction website building.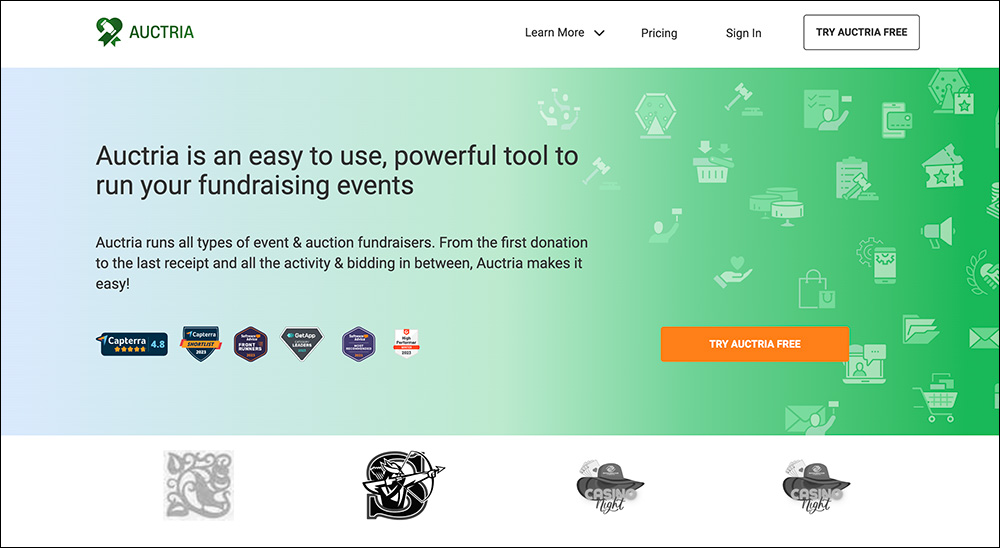 Auctria Highlights
Auctria offers all the basic tools for auction planning, with a variety of plans based on nonprofits' needs.
Auctria Pricing
For a plan that equates to the features offered by the other top providers, Auctria charges $1,150/year. Cheaper plans are available, but limit certain capabilities, such as the number of bidders, amount of income tracked, price of credit card fees, and more.

Givebutter is what we call a "free with fee" platform that eliminates the cost of starting your silent auction events. Instead, participants of the software for nonprofits are asked to pay a fee in addition to their totals to cover Givebutter platform fees.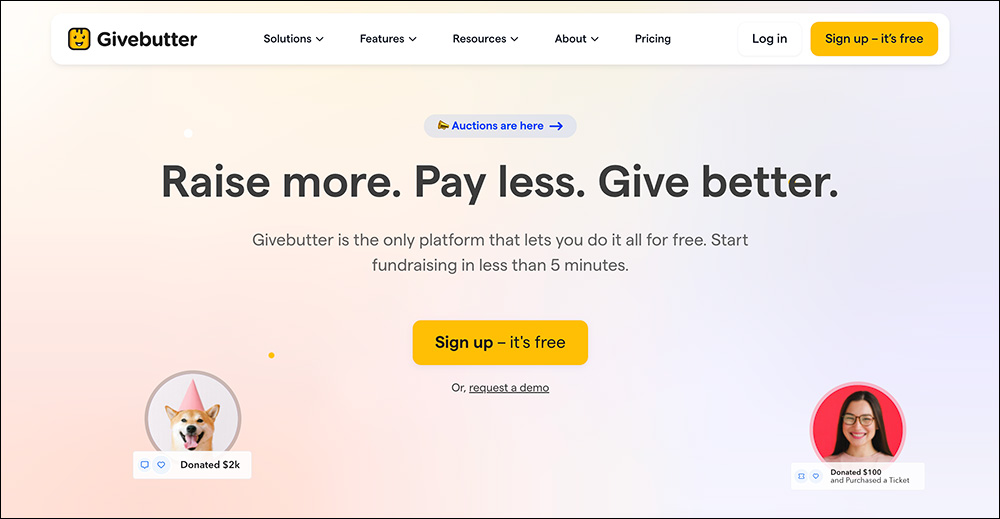 Givebutter Highlights
Nonprofits do not pay up front for any of Givebutter's services. This can offset costs of smaller events on a budget. Donors who are asked to pay an additional fee can also opt out.
Givebutter Pricing
Fees for using Givebutter are completely passed to the donors of the charity. This can range from 4-8% of silent auction totals. Learn more about comparison with Givebutter.

Nonprofits looking for the ability to source auction items and auction them online can leverage TravelPledge's turnkey platform. No startup fees allow smaller charities the ability to start an auction on their own.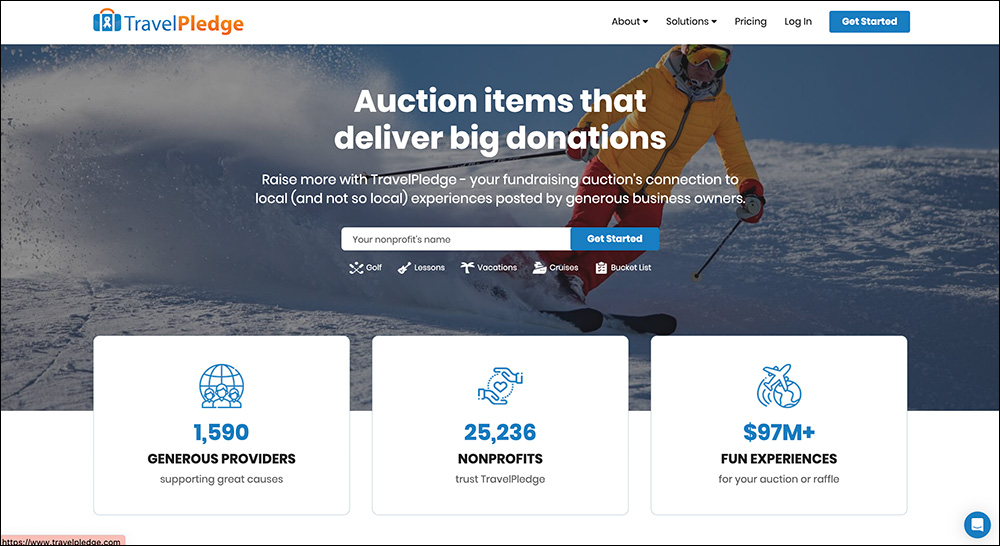 TravelPledge Highlights
Nonprofits do not pay up front for any of TravelPledge's services. Tips are requested when a winning makes a payment. For consignment items, a reserve price is set to avoid costs to charities. What's more, charities are not required to use the online silent auction software to take advantage of auction packages.
TravelPledge Pricing
Fees for using TravelPledge passed to the donors of the charity. Life GiveButter, this can range from 4-8% of silent auction totals. Packages sold in silent auction events have established reserve prices to avoid costs to nonprofits.

HGA is a risk free auction item and experience provider for silent auctions. Their extensive catalog offers wine tasting, domestic and international trips. When a bidder wins an item, HGA connects them to the venue to arrange use of the package.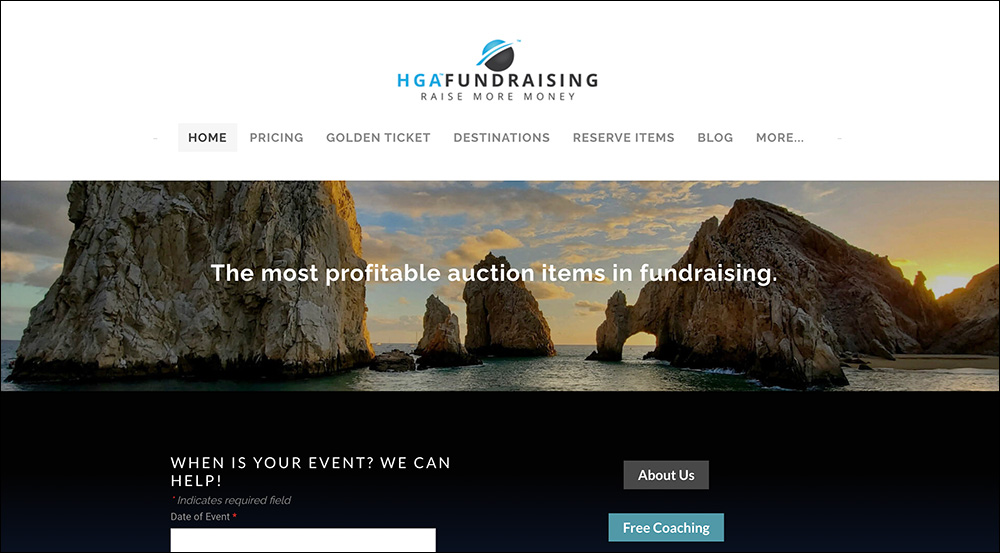 HGA Highlights
In addition to incredible experiences, HGA Fundraising offers a Golden Ticket. Sell 100 tickets at $100 and give the winner a choice of amazing experiences.
HGA Pricing
There is no cost to begin offering HGA items at your event. Simply choose silent auction items from their catalog and start the bidding at their listed reserve price.

Located in Dallas, TX, Murad Auctions is a full service silent auction solution for the biggest events. Their team of local experts assist charity fundraising events with every aspect imaginable. Their team offers event planners, event managers, bidding assistants and live auctioneers.
Murad Auctions Highlights
A truly white glove solution for events that require the extra care of expert "boots on the ground". With 20+ years of experience, there's no better team to provide the excellence you need.
Where Murad Auctions shines is their access to event planners, auctioneers and extensive experience in the silent auction software platform.
Murad Auctions Pricing
Pricing is available based on the needs of the charity auction event. Speak to a Murad Auctions representative to learn more or view our partner page.

Available throughout the United States and Canada, Life Event Staffing can provide your silent auction event with professional and experienced individuals to take the burden of execution off your hands. Trained in most silent auction software platforms, this team can assist with event check-in, bidding support, live auction clerking and check-out.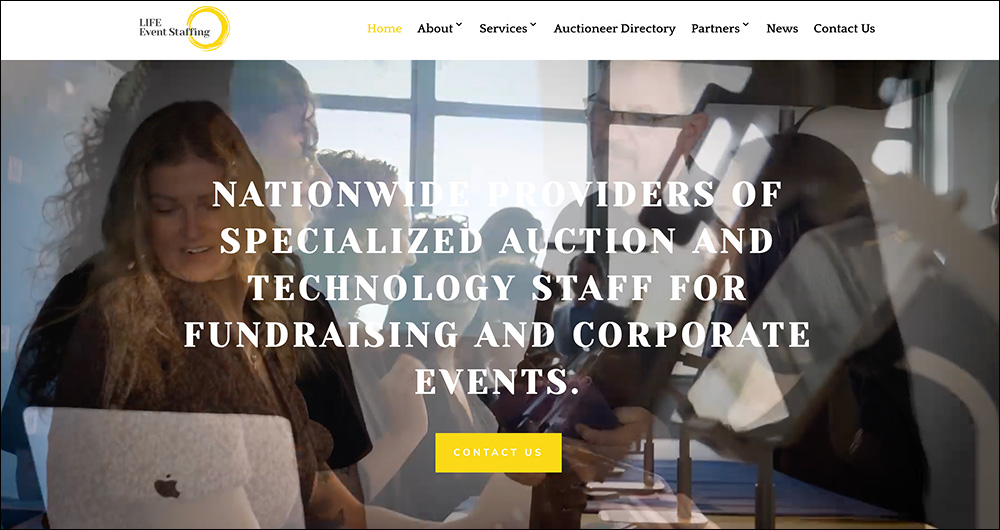 Life Event Staffing Highlights
A staffing agency specializing in providing on-demand staffing and services to clients utilizing a mobile silent auction events. Insured technicians available anywhere you conduct your event.
Life Event Staffing Pricing
Pricing is available based on the required staff that will attend your event. Contact Life Event Staffing for more information or view our partners page.
---
Research and Plan Your Silent Auction Software Needs
Once you establish your nonprofit's goals for its silent auction fundraising event, evaluate your plan and determine what tools will be the most useful to your organization. Since ClickBid specializes in planning, supporting and executing charity auctions, we feel that it's the most effective platform for this type of fundraiser.
All-inclusive software and a knowledgeable team will simplify your silent auction experience. Especially for recurring auctions, choosing the right software is an investment that shouldn't be taken lightly. Thoroughly research your options before committing to a platform. If your nonprofit needs more guidance, reach out to an expert at ClickBid for more information.
Want to do some more reading about nonprofit fundraising? Check out these recommended resources: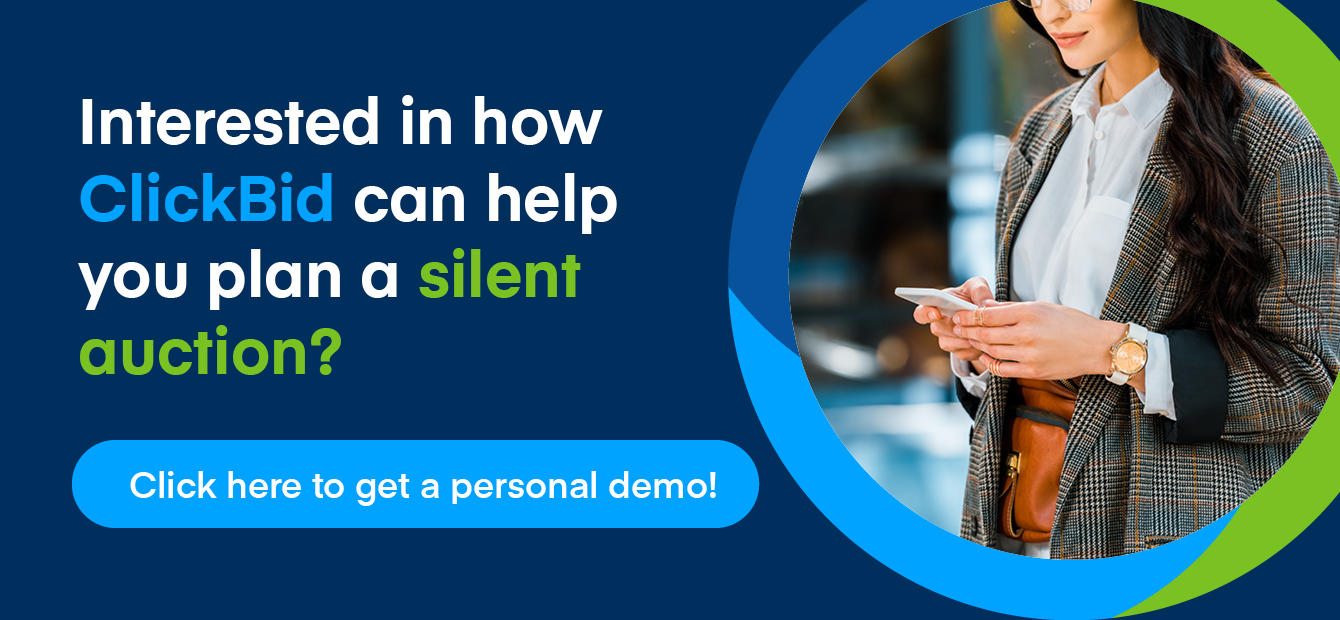 Get The Latest Updates
Subscribe To Our Monthly Newsletter
No spam, notifications only about new products, updates.
Become a subscriber
Subscribe to our blog and get the latest updates straight to your inbox.