Mobile Bidding Basics: A Mini Guide and Top Providers
April 14, 2023
Most people do everything from their phones, and rightfully so! Modern technology makes our reliance on cell phones second nature. If your nonprofit wants to keep up, you'll need to incorporate mobile features into your fundraising efforts.
When it comes to charity auctions, high-quality software will facilitate everything from auction planning to payment processing. But the key capability to look for in the software you choose is mobile bidding. In this guide, we'll review the following mobile bidding basics:
Mobile bidding is mostly about convenience and ease of use for supporters, so it makes sense that the setup should be easy for nonprofits, too. The right software will simplify your nonprofit's mobile bidding launch. But before you choose your software, let's review the basics of this important tool.

What is mobile bidding?
Mobile bidding is the process of using mobile devices to bid on auction items. The software that facilitates mobile bidding is usually included in an auction planning platform.
We've already discussed the immediate benefits of this bidding approach, such as simplistic event management and increased participation. But mobile also sets you up for success with future auctions through data tracking. Mobile bidding software will collect and organize information such as:
Participant contact information
Time of participant registration
Number of bids made per item
Starting bid versus winning bid price
Sale price versus the item's fair market value
With easy access to this data, nonprofits can adjust their plans for future auctions to produce better results. For example, a minuscule difference between the starting and winning bid prices for an item might indicate that the starting bid was too high. Use this data in your next auction to adjust your price-setting strategy and appeal to more bidders.
Also, the convenience of mobile bidding can expand your audience. Since registrants can view auction items and bid from their phones, they won't need to physically attend your auction to participate. Bidders might compete for items from home, or even from different cities and states.
How to set up mobile bidding
The responsibility of launching mobile bidding falls on nonprofit leaders, but this won't be a burden with the right software! You don't need a tech-savvy event planner to follow the simple steps of launching your mobile bidding capabilities: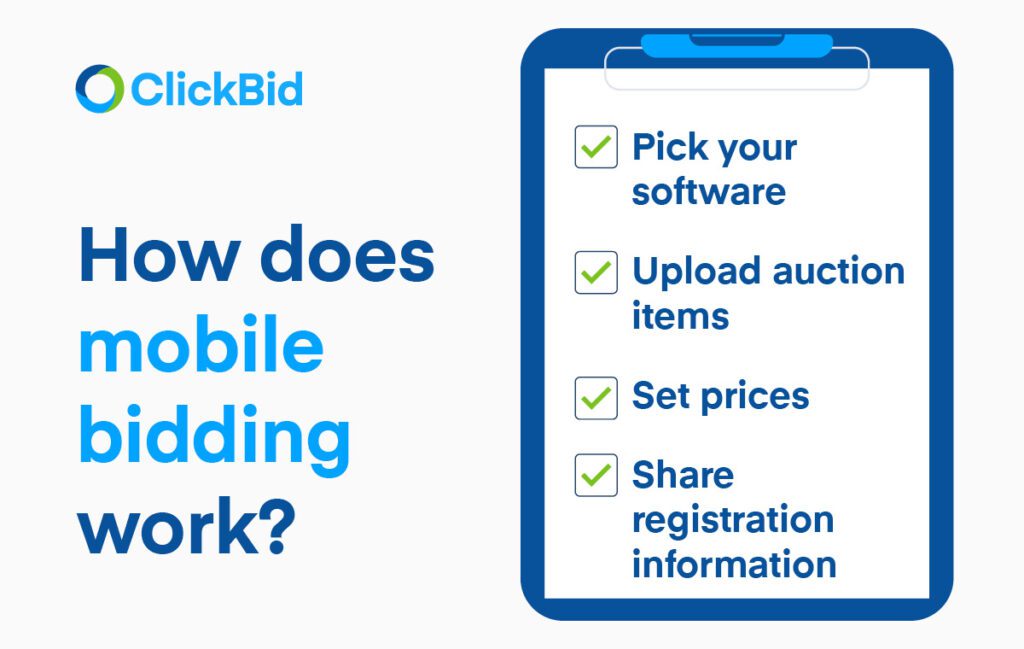 Pick your software. During the planning stages of your auction, research software provider options and choose one that includes all the features you're looking for at a price within your budget.
Upload your auction items. After finding quality auction items, take pictures of each and add them to your auction software account. Be sure to include descriptions of each item that will entice participants to bid on them.
Set item prices. Place dollar values on each auction item. Be considerate of your participants' budgets when price-setting, providing a wide range of prices so everyone can participate.
Share registration information. Promote your auction and provide instructions for signing up. Then, let your supporters do the rest of the work!
This simplified planning process keeps all your auction information, like item prices and participant registration, in the same place. With those details taken care of, your nonprofit can focus on other important aspects of the event, like marketing and securing an event speaker.
How do bidders use the software?
After you've set up mobile bidding capabilities, your supporters will use an app or their mobile browser to participate in your auction. The bidding process will include the following steps:
Participants will browse items. Participants can scroll through your entire inventory, or you can set up categories to organize the items by similar characteristics.
Bidders will select an item they're interested in. They can make the first bid at the starting price you set or make their own bid at a higher price.
Other participants will bid. If you're using software that allows you to set a minimum raise, then bidders will continue to compete for the item at price increments that you set.
A bidder will win and pay for the item. Your software may allow you to choose a closing time, at which point a winner will automatically be chosen. The winner will pay from their phone.
Depending on the format of your auction, bidders may pick up their items immediately or schedule a time to pick them up. You may also be selling digital gifts, such as tickets to an event, that can be transferred virtually. The right software will be conducive to any event format and provide a convenient checkout process for your participants no matter what they've purchased.
What mobile bidding features should I look for?
Placing a bid from a mobile device is just one part of mobile bidding software. The platform you choose will only benefit your nonprofit if it offers additional features that will further your auction goals. For example, if your auction items are pieces of artwork, you'll want to choose a visual-heavy platform that shows off photos of your items. Look for these features when researching mobile bidding software: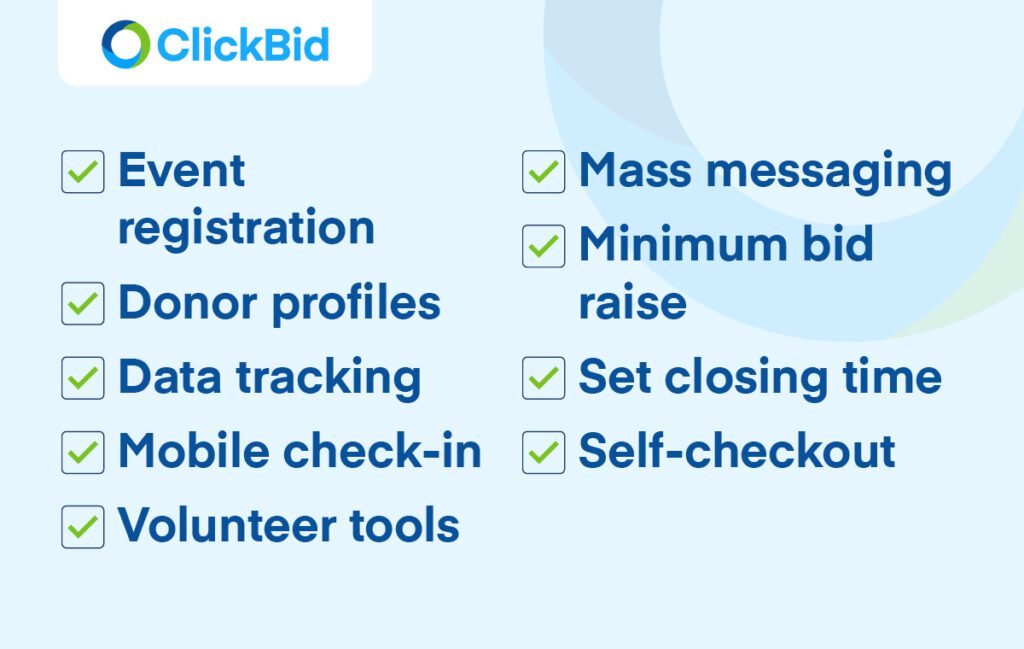 Event registration
Donor profiles
Data tracking
Mobile check-in
Volunteer tools
Mass messaging
Minimum bid raise
Set closing time
Self-checkout
With these features, your nonprofit won't have to worry about recruiting volunteers to manage check-in booths or collect payments. Instead, you can focus on connecting with attendees and talking about your cause.
Remember, software is a tool that is meant to make processes easier. These features will mean nothing if they're difficult to use. When you're searching for software, research providers along with the features they offer. Find a provider that has all-inclusive software but also a helpful support team. It may be helpful to get a demo with a provider you're considering so you can learn more before you purchase.
If you're not sure where to start, that's okay! We'll review the top five providers of mobile bidding software to help you narrow down your search.
Top providers of mobile bidding software

ClickBid is the premier provider of mobile bidding software. Because it's a charity auction platform, auction management is the primary focus of this software. The ClickBid team provides auction expertise and top-tier features to make your auction run without a hitch. Its highlights include:
Ease-of-use: You don't have to download any apps to get started and can manage the entire event from your easy-to-use dashboard.
Event management: Mobile bidding isn't the only functionality of ClickBid's software. Everything from ticket sales to mobile check-out can be facilitated through one platform.
All-inclusive features: Activities outside of event management are streamlined through this software, too. For example, you can send messages to all your participants or volunteers through mass messaging features. It also offers volunteer tools to make their contributions easier during the event.
Plus, ClickBid allows you to integrate your auction data into other software, such as your nonprofit's CRM. That way, any data you collect through your auction can easily be combined with pre-existing data on your other platforms.
If any of these features sound confusing, remember that your ClickBid subscription includes access to ClickBid's unmatched support team. For even more help, subscribe to ClickBid's full suite package to be assigned a Dedicated Advisor. This seasoned ClickBid team member will help you navigate everything from event set-up to post-event reconciliation.
Pricing: Starts at $795/year.

Mobile bidding is just one of the many features provided in GiveSmart's platform. Overall, the software is focused on fundraising and donor management, so it's a great tool for running online fundraisers. Its highlights include:
Ticketing
Seating management
Participant registration
Customizable fundraising website
Guest communication
Thank-you letters
GiveSmart's automatic text updates keep your participants up to date about the status of auction items, so they won't miss a thing. Event volunteers won't have to worry about sending out reminders since the messages are completely automated.
Also, GiveSmart allows you to sync auction information to your CRM for an integrated fundraising approach. This is especially helpful for reaching auction participants in future fundraisers.
Pricing: GiveSmart's pricing is not listed on their website, but you can call to learn more about pricing for each of their plans.

To take the convenience of mobile bidding a step further, Giveffect allows participants to make their bids via text message. Automated auction notifications will text bidders to let them know the minimum bid amount for an item, confirm their bid has been placed, and alert them if they've been outbid.
Surveys are also automated through Giveffect's platform to gather feedback from bidders. Additionally, Giveffect tracks fundraising data so you can look at your fundraiser's performance overall and adjust your strategy as needed.
Pricing: Starts at $4,788/year, but keep in mind that Giveffect's focus isn't solely auction and bidding solutions.

Founded in 2004, SchoolAuction is a small company that specializes in auction software solutions. This software offers the necessary auction features, with special additions such as live-streaming capabilities for virtual auctions. Some of the features it specializes in include:
Online and mobile bidding
Online fundraising campaigns
Sponsorship package building
Voting contest tool
Keep in mind that SchoolAuction offers a variety of fundraising tools, so mobile bidding is not included in all its offered packages. However, its Plus package offers several features that you can leverage outside of your auction for future fundraising needs.
Pricing: Packages that include mobile bidding start at $1,500/year.

Xcira is an auction software that specializes in industry-specific auctions. For example, this company has experience working with clients who host jewelry auctions. If you're hosting an auction with a specific focus, Xcira might be able to offer effective support.
Their support system is 24/7, monitoring every auction event and providing strategies for clients to make their events more successful. Auction participants can use Xcira's app, AuctionEar, to listen to or watch an auction in real-time and place their bids.
Pricing: Xcira's prices are not listed on their website. Contact Xcira for a demo to learn more.

With a 98% customer satisfaction rate, Snowball empowers nonprofits of all types and sizes to host a variety of fundraisers. The all-in-one platform offers the features needed to raise funds through:
Auctions
Text-to-give campaigns
Fundraising pages
Donation forms
Nonprofit storefronts
While Snowball doesn't specialize in mobile bidding, the software allows donors to give in numerous ways from their mobile devices, making it a comprehensive fundraising tool for nonprofits.
Pricing: Snowball's paid plans start at $55/month.

While other platforms boast a robust list of features and capabilities, Handbid stands out as an exclusive provider of mobile auction management. The mobile bidding platform was created by nonprofit leaders, meaning the support team behind the software has the nonprofit expertise to help you raise more.
Handbid also hosts a weekly podcast, Elevate Your Event, which provides tips for hosting successful fundraisers.
Pricing: Handbid's pricing varies depending on the package, but you can book a demo for more information.

MaestroSoft is another fundraising software that specializes in auction management. However, this platform goes a step beyond mobile bidding capabilities. MaestroSoft's services include a hands-on approach to auction planning, including the following offerings:
Virtual or live auctioneers
Virtual or live event managers
Event consulting
Software training
If you're looking for a platform to facilitate mobile bidding but also want support for planning a successful fundraiser, MaestroSoft is the platform for you!
Pricing: MaestroSoft's pricing depends on the software or services you're looking for, but their mobile donation software starts at $999/year.

BiddingOwl is an auction management tool with updated offerings and personalized customer service that can meet your fundraising needs. According to their website, BiddingOwl believes in "building something really good, making it intuitive, giving it all the options possible, and giving customers personal service, so they become part of your family rather than a number."
This provider's full suite of tools allows your nonprofit to not just facilitate mobile bidding, but to also:
Manage guests
Create bid sheets
Duplicate events
Plus, BiddingOwl can help you gain valuable insights about your auction through data management, including the ability to download and upload supporter information as well as record event results.
Pricing: BiddingOwl charges a 5% performance fee on the mobile revenue raised by your auction.

Although Accelevents doesn't specialize in mobile bidding, this comprehensive fundraising platform has a robust set of tools for raising donations. Accelevents can facilitate your event's:
Ticketing and registration
Check-in
Website
Results data
Plus, the software can help you create an agenda for your event with ease. You can manage event waitlists, entertainment (such as speakers or special guests), and any additional files or documents relevant to your event.
Pricing: Accelevents' fundraising software starts at $499 per auction plus $1 per person who participates in the event.
---
There are tons of choices when it comes to choosing mobile bidding software. The most important consideration in choosing the right software is understanding how the software will make your auction more effective.
Want to learn more about auctions and mobile bidding? Check out these recommended resources:
Nonprofit Silent Auction Software Overview + 5 Best Options. Explore the basics and top software providers in this guide to nonprofit silent auctions.
Top 13 Fundraising Software Solutions for Your Nonprofit. Learn more about different types of fundraising options with software solutions to simplify the process.
How to Start a Fundraiser: The Nonprofit's Ultimate Guide. Need advice about fundraiser startup? Check out this guide for nonprofit fundraising tips.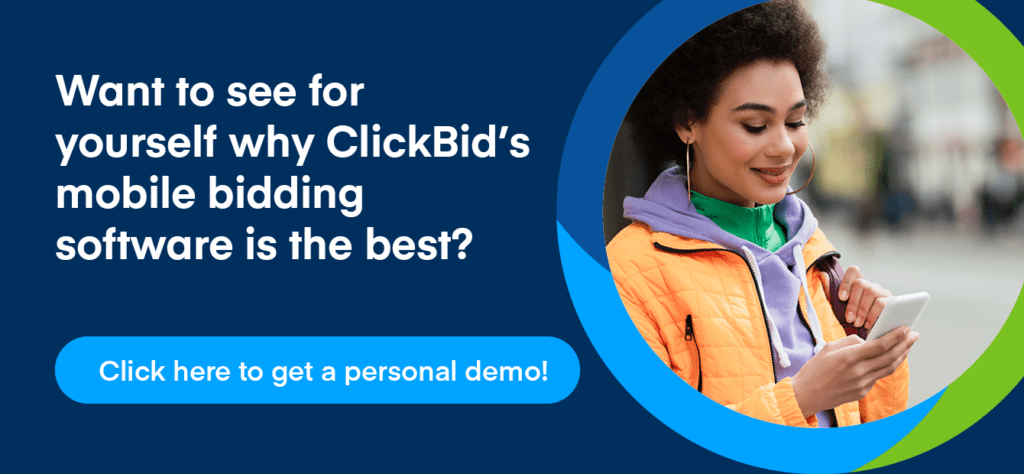 Get The Latest Updates
Subscribe To Our Monthly Newsletter
No spam, notifications only about new products, updates.
Become a subscriber
Subscribe to our blog and get the latest updates straight to your inbox.