Event Marketing: A Quick Roadmap for Ambitious Nonprofits
September 14, 2021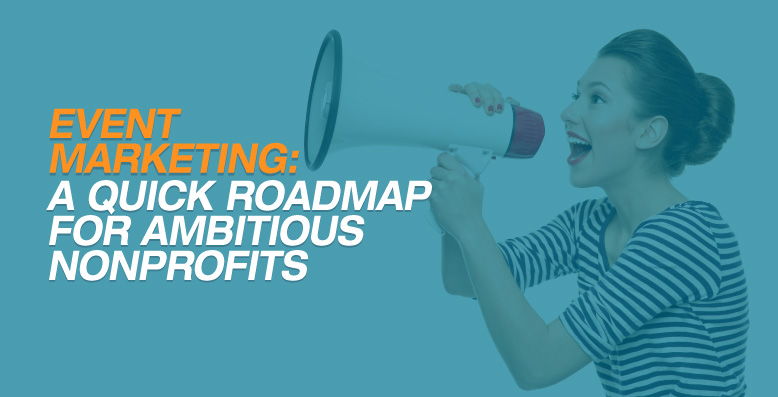 Every nonprofit event planner has one worst fear— arriving the day of only to see that no one has shown up. After months of planning and footwork to acquire a venue, sponsors, and entertainment, the last thing you want is for your event to flop.
The good news is that with a strong marketing strategy, you don't have to worry about your event plans going awry, even when you're still adapting your events to a world dealing with COVID-19. When you start spreading the word about your event early and strategically, you can be confident that your supporters will show up and make your event a smashing success.
According to Salsa's roundup of the best fundraising strategies, one of the best tools for enhancing your event marketing strategy is automation. Software automation can help you market your event based on the donor data in your CRM, and it can also speed up marketing tasks like sending emails.
In this article, we'll give you a thorough roadmap for event marketing with software automation, walking you through the following steps:
Whether you're planning a golf tournament or a community movie night, each of your organization's fundraising events has the potential to help you meet fundraising goals and develop long lasting relationships with your supporters and key stakeholders. Taking the time to improve your event marketing strategy with software automation is well worth your while. Let's get started!
Segment your audience
Say you win an all-expenses-paid tropical vacation and want to share the good news with your social circle. You'll likely have to adapt your message based on who you talk to. For example, you might quickly text a group of friends the news and include a few emojis to express your excitement. But when you share the news with your grandmother, you'll probably call her on the phone, catch up on family news, and then talk about your vacation.
This example goes to show that communication has never been one-size-fits-all— not for family and friends, and definitely not for your organization's supporters. Before you can send out any marketing materials promoting your nonprofit's event, you need to get to know your audience. This will allow you to segment your audience, putting supporters in different groups based on shared characteristics, like age or preferred method of communication. Then you can better personalize your communications for each group.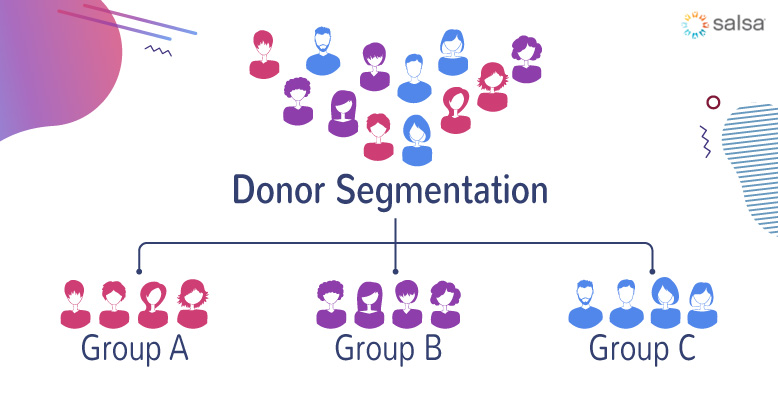 You already have the tool you need for audience segmentation at your disposal: your nonprofit's CRM software! Here are a couple of data points in your CRM that you can use to effectively segment your audience and personalize your messaging:
Names:

It may sound too easy, but using your donors' names in your communications is a great way to build rapport with them. Instead of a generic email salutation like "Dear Donor," something like "Dear Remi," or "Hello, Jordan" can add a more personal touch.

Donation amounts and dates

: If a supporter has given to your cause before, you should acknowledge this when inviting them to an upcoming event. Without an acknowledgment of their previous donation, they may think your organization sees them as a blank check instead of a dedicated supporter.

Event attendance and volunteering history:

Some of your supporters need to be reminded of what your cause is all about when you invite them to an event. Others, like longtime supporters or dedicated volunteers, may see introductory information about your organization as redundant and tone-deaf.

Communication preferences:

Perhaps you've asked your supporters to indicate their communication preferences when filling out a donation form, or maybe you've been tracking metrics (more on these later) that give you a good idea of what your supporters prefer. Make sure to cater your communication to them accordingly, maximizing the likelihood that they'll receive your message.

Custom Information:

You might track custom fields like whether your contact has a pet, political affiliations, food allergies, or other demographic information that is meaningful to your mission or operations.
Relying on your CRM for information about your supporters can set you up to share event information with them in effective ways. When they feel like your marketing materials address their needs and wants, they'll be more likely to attend your event and be excited about it (and your cause!).
Create an automated email series.
Once you've learned about your audience and their communication needs, it's time to start preparing your marketing materials, like an email series. With the right engagement platform, you'll be able to use templates to customize emails for different supporter segments and automate the delivery of those emails.
To help you leverage email automation in your event marketing, here's how an automated email series typically works:
First your supporter completes some sort of "triggering" action where you can gather contact data, like subscribing to your newsletter or giving a donation.

Next, they're placed into your email marketing database and segmented based on their age, location, and other characteristics.

Your marketing team creates an email series to trigger out to these audiences based on different qualifications you set. The series should include multiple emails announcing your event, promoting it, and reminding supporters to register and show up on the day of.
Your supporters want your emails to be short, informative, and useful for understanding the next steps you want them to take. Here are some ideas for different kinds of useful emails you could include as part of your series for an upcoming event:
Save-the-date emails:

Reserve a spot on your supporters' calendars by sending out a save-the-date far in advance.

Raffle/auction item list emails:

If an

auction

or a raffle will be part of your event, get your supporters ready to participate by announcing what they'll be able to bid on.

Speaker/entertainment announcement emails:

Get supporters excited by teasing or announcing who will be speaking or performing at your event.

Product store/pre-event swag emails:

Try

selling event t-shirts

or other merchandise to get your supporters repping your brand before your event and on the day of.

Registration confirmation emails:

Once your supporters have registered for your event, they should receive a confirmation email with all of the event details and a receipt.

Livestream link emails:

If you're

streaming your event on Zoom

, make sure to send the link in advance so supporters can save and use it.

Post-event surveys:

Ideally, a survey will be the last email in your series. Gather feedback from your supporters on both the event and your communications strategy.
Remember that when you create an email series, you should take a critical look at how many messages you need to send— you don't want to spam your supporters! Also, don't forget to personalize your emails as much as possible by using your marketing platform to include their names or acknowledge them for past participation and contributions.
Leverage social media management tools.
Social media platforms are created with the goal of helping people connect with each other. What does this mean for your nonprofit? When you use social media platforms to promote your events, you have the chance to cultivate lasting relationships with your supporters. Once again, you'll need the help of software automation to make managing your social media accounts and posting a sustainable part of your marketing strategy.
With automation and careful planning, you'll be able to do the following:
Easily schedule and post

on popular social media platforms like Facebook, Twitter, LinkedIn, and Instagram.

Encourage your supporters to take an action

like registering for your

virtual gala

or sharing a petition with their own networks.

Start conversations with supporters

through private messaging and post comments to get to know them and their perception of your organization better.

Use advertising

(like Facebook ads) to target and capture new supporters.
Don't forget that you'll need to tailor your social media messaging to different supporter segments, just like you would with an email series. Here's some handy information from Pew Research Center about social media trends that can guide your segmenting:
84% of U.S. adults aged 18-29 use at least one social media site, while only 45% of U.S. adults aged 65 and over do.

What this means for your social media strategy:

Social media tends to be a communication medium used by younger people.
Facebook is the most popular social media platform for U.S. adults, with 69% of adults actively using it.

What this means for your social media strategy:

Despite the rumors that Facebook is dying off, it's a thriving platform that is well worth your time and energy to use.
50% of U.S. adults who make more than $75,000 dollars/year use LinkedIn.

What this means for your marketing strategy:

LinkedIn could be a great place to let potential major donors know about your upcoming events.
However you decide to use social media in your event marketing campaign, remember to do so with your donors and social media trends top of mind. This will help ensure your efforts to automate your social media messaging won't go to waste and will generate more attendance at your event.
Plan for the future with insights from digital marketing reports.
Once you've successfully marketed your event and made sure your attendees had a memorable time, it's easy to feel like your work as a fundraising professional is over. But to put your best foot forward for future event marketing, your marketing journey shouldn't end when your last guest leaves for the night.
Now is the time to look for insights from your digital marketing reports supplied by your supporter engagement platform. Understanding what went well and what didn't will help you market your next event even more effectively.
Reports can help you see all of your event marketing data in one place and notice trends. To leverage reporting to its fullest extent, you should go into your data review with a specific direction in mind instead of trying to incorporate dozens of changes into your strategy all at once. That's where key performance indicators (KPIs) come into play.
Looking at specific metrics will help you set realistic marketing goals and to target problem spots in your strategy. For example, if you track your email open rate for one event or even a few events in a row, you can start to notice what kinds of emails tend to get your supporters reading and which they probably just delete without looking at.
According to Salsa, here are some possible email and social media KPIs you could track in your reports:
Email open rate:

This metric tells you the percentage of people who opened an email you sent them, which can be helpful for gauging what kinds of emails to include in an email series.

Email click-through rate:

Click-through rate tells you the percentage of people who clicked a link in your email. If your click-through rate is low, you might need to revisit the calls to action you include.

Social media conversion rate:

This KPI helps you see the number of people who take an action on a post after clicking on a social media link as compared to the final number of people who took an action. One great way to boost your conversion rate is to keep your links short.

Social media amplification rate:

Amplification rate is the ratio of shares per post to the number of overall followers. Essentially, a high amplification rate lets you know that you're producing content that your supporters like and want to share.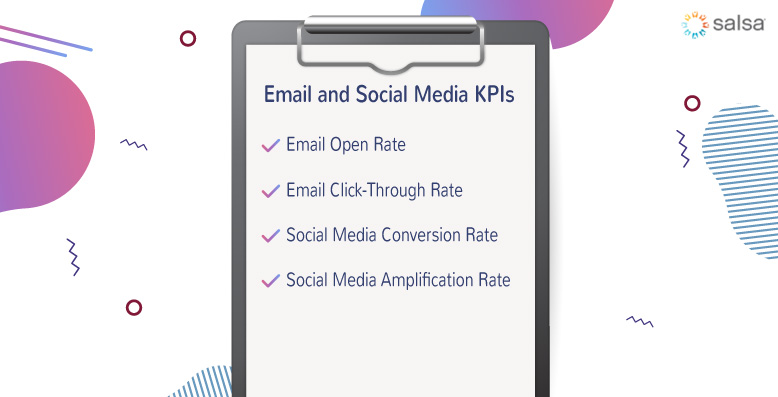 Once you've been using metrics like these in your digital marketing reports for a while, you'll see that tracking trends helps you to make more informed, data-driven decisions that make your event marketing strategies better.
Event marketing can be intimidating, even for the most experienced nonprofit professionals. However, by leveraging automation software and adhering to the roadmap we've laid out, you can pull off a fun and lucrative event based on data-driven decision making. Remember to keep your audience's needs top of mind, and good luck!
Get The Latest Updates
Subscribe To Our Monthly Newsletter
No spam, notifications only about new products, updates.
Become a subscriber
Subscribe to our blog and get the latest updates straight to your inbox.