Balancing Hybrid Fundraising: 5 Tips for Success
November 15, 2021
With our increasingly spread out world and the prevalence of virtual events during the pandemic, it's no surprise that hybrid events may remain a popular option for years to come. Whether due to health concerns or physical distance, hybrid fundraising allows everyone to have the best of both worlds with some attendees remaining at home while others attend in person.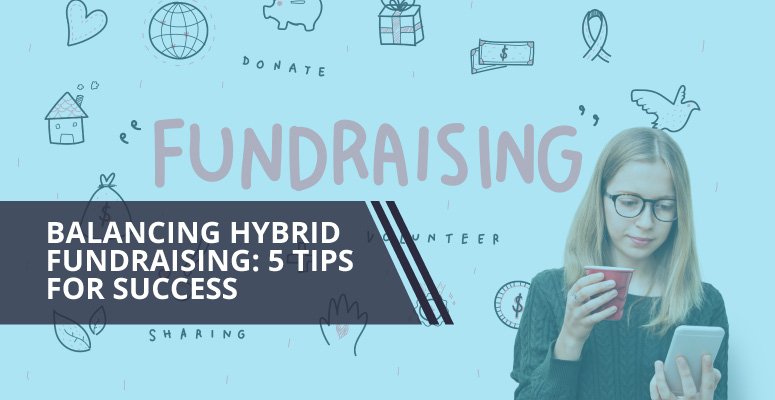 Luckily, there are many in-person and virtual fundraising ideas that can be adapted to accommodate hybrid participants. However, hybrid events do take an additional level of planning to figure out how to create similar experiences for all attendees. Your organization will need to be intentional with how you set up your fundraiser.
To help you run a successful hybrid fundraiser, we'll cover these five tips for balancing hybrid events:
Select the right type of fundraiser

Invest in useful technology and software

Practice using your technology

Streamline the donation process

Promote your hybrid fundraiser effectively


When done well, hybrid fundraisers can be interactive, engaging, and more inclusive than traditional in-person fundraisers. With these tips, your supporters will have a great experience participating in your hybrid fundraisers. Are you ready to learn how to run a successful hybrid fundraising event? Let's get started!
Select the right type of fundraiser
With more than 150 fundraising ideas from Fundly, you have no shortage of suggestions to pick from. A few things to ask yourself when considering different fundraiser ideas:
Can this type of fundraiser feature a virtual component?

Do you have the required tech to make this possible?

Will both virtual and in-person participants get a similar experience?

For events, how can virtual attendees interact?
You don't have to give virtual and in-person participants the exact same experience, but it is important to ensure that they both have opportunities to participate and interact in meaningful ways. For example, if you choose to run a hybrid auction, you can create a virtual auction catalog where all attendees can view the items being auctioned. Using live streaming combined with mobile bidding also enables participants at the event and at home to bid in real-time.
Another example is running a hybrid talent show. You can have a camera set up to livestream in-person performances and broadcast pre-recorded videos of those who entered but cannot attend in person. All attendees can vote on their mobile phones to streamline the voting process.
In both of those examples, steps were taken to offer a similar experience to all attendees and to allow for all attendees to participate in the main event. Utilizing the technology available to you to enhance the experience of your attendees while enabling participation will help you create an engaging experience for your supporters.
Invest in useful technology and software
You've likely already invested in some technology and software for running events, like livestreaming software, at some point during the pandemic. For the most part, we've all become familiar with some type of virtual event software, but hybrid events present a new challenge.
With half of your participants at home and the other half in the same room as you, organizations need to find and learn how to use the best technology and software that allows them to cater to both types of participants.
Some technology you'll need to invest in might include:
Livestreaming software

Video or audio equipment

Mobile sign up, bidding, or donation software
The amount of technology you need to invest in will depend on the types of fundraisers you choose to run and how much of your technology from hosting solely virtual events can be repurposed. In order to give your supporters the best experience possible and for the most long-term value, it's important to invest in quality technology and software that will enable you to easily execute all parts of your fundraiser.
Practice using your technology
The last thing you want is to start your event and have nothing work like it's supposed to. You might be working with technology and software that you're unfamiliar with or you might just run into an unexpected tech issue. Either way, it's a good idea to go into your event feeling confident in how to use your technology. This ensures that your virtual and in-person attendees get the best experience possible. Here are a few things to practice doing before your actual event:
Setting up your livestreaming software

Using your audio and

video technology

Joining your event as a virtual guest

Interacting through comments, chat, reactions, etc.

Recording and downloading your livestream

Using and submitting any mobile forms
Practicing all of these things will not only ensure that you're comfortable with the technology you're using but also that you can troubleshoot any issues. Additionally, practicing steps from the guest perspective with your staff will enable you to better assist guests who may be experiencing technical difficulties. As you practice, consider ReCharity's tips for successful livestreaming to further improve your attendees' experience. Your supporters will appreciate how easily they get quality assistance that allows them to enjoy the event they signed up to attend.
Streamline the donation process
Regardless of the type of fundraiser you choose to host, it's likely that many of your donors will be giving from their phones or from a computer. Utilizing mobile donations even for in-person participants will help simplify your donation collection process as you balance all of your attendee experiences. In order to create a user-friendly and engaging donation experience, you should:
Make your donation page mobile-friendly.

For in-person attendees or virtual attendees using phones, it's important to ensure that your

donation page

works just as well on a mobile device as it does on a desktop. This makes it easy for everyone to donate, regardless of how they're participating.

Tie your donation page to your event.

Having a tracker, like a fundraising thermometer, that your in-person attendees can see and your virtual donors can access on their own devices is an easy and interactive way to keep the momentum going and get donors excited about reaching the goal.

Simplify the donation process

. Because many donors will likely be using their mobile phones to donate, it's probably not the best time to ask for extensive information. Keep your required fields to a minimum and offer the option to create an account afterward for donors who may want to spend the time giving more information.
Taking these measures to improve your donation page is something that will likely come in handy for all fundraising efforts – whether they're virtual, hybrid, or fully in-person. Streamlined mobile and online giving is a must for every modern nonprofit.
Promote your hybrid fundraiser effectively
After you've put all of this effort into planning a balanced hybrid event, acquiring the right technology, and optimizing your donation form, it's crucial to market your event so that everyone gets an opportunity to attend.
You can promote your event by:
Sending out emails to supporters.

You can mention your fundraiser in your regular newsletter as well as sending out a specific email to your audience with more details about the fundraiser and a prompt to sign up, get tickets, or mark their calendars.

Posting on social media.

Utilize all of the social media channels you have to inform your supporters about your upcoming fundraiser. Make sure to include a call to action and a link for them to participate when the time comes.

Using outbound text messaging.

With text messaging you can directly send your supporters a link to sign up for your fundraiser that will take them only seconds to fill out.
As you promote your fundraiser, make sure to provide clear explanations and instructions for how both the virtual and in-person components will work. Include a field to indicate if your supporters will be attending virtually or in-person on the sign-up form to help you prepare for the correct number of each type of attendee.
Because hybrid events are likely to stick around, now is the perfect time for your organization to spend time perfecting your hybrid fundraiser workflow.
---

With all of these tips in your toolbelt, hybrid events should no longer feel unattainable. Remember — hybrid events are meant to give all participants the most interactive experience possible from their respective locations. To achieve this, always keep your donors' experience front of mind when planning your fundraiser. Good luck!
Get The Latest Updates
Subscribe To Our Monthly Newsletter
No spam, notifications only about new products, updates.
Become a subscriber
Subscribe to our blog and get the latest updates straight to your inbox.